Crockery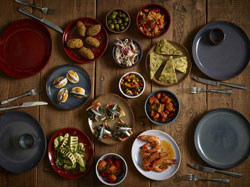 At Gilmartins we stock a wide range of crockery from several manufacturers if you require a catalogue on the full selection available please request one, we only have a limited selection here online.
Our primary collection is, Churchill Super Vitrified which is one of the strongest collections available delivering presentation and style that lasts. Whiteware is the largest collection be we also stock Stonecast and Alchemy fine china. The new profile range is 20% lighter than most ranges and still keeps the durability and strength associated with Churchill Super Vitrified.
Royal Genware Porcelain tableware is the other significant range we stock and again this is a quality, durable and practical collection and is again fully vitrified. The extensive collection covers multiple plates, bowl and beverage lines with complementary service items to make your place setting complete. Royal Genware Porcelain tableware is suitable for hotels, bars, restaurants, domestic and all foodservice applications.
Free next day delivery nationwide on all orders over €75 Nationwide