Hygiene & Workplace Signs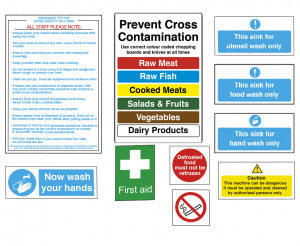 Buy hygiene and safety signs from our extensive range of stickers and signs in a variety of finishes or sizes and have them shipped throughout Ireland for next day delivery when possible. Explore our range online, in our showroom or contact us for any specific requirements and we will organise a proof prior to ordering. Our Hygiene safety stickers are suitable for Bar, Cafe, Restaurants, hotels, leisure facilities, schools, offices, factories, community or any public area either for front of house or in the kitchen.
Whatever your trade we can help you adhere to food safety regulations and guidelines with convenient ready to go packs with a selection of signs or pick out the required signage you want and we will ship them out so you will have them the next day free shipping on all orders over €75.
Now more than ever safety stickers and floor graphics are so important during the current Coronavirus crisis, we have COVID-19 related signage to help get your business ready for reopening and adhere to restrictions while customers are in your premises, if you require a different size or text on the size please feel free to contact us. 094 9381210
Free shipping on all orders over €75 Nationwide