Menus & Display Boards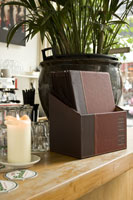 We stock a wide range of menus, signs and displays, all of which are perfect for highlighting awareness of promotions, daily specials or events.
Our menus are available in an attractive selection of designs from leading suppliers Butler Menu's, Securit and Genware, they are available in a range of materials from bonded leather, wooden in contemporary and traditional styles to suit your Gastro Pub, Restaurant, Cafe or Hotel.
Our Chalkboards are a great way to communicate messages or offers to customers and are available in an array of sizes to suit a wide scope of requirements while proving great value for money. We also stock a range of pavement boards suitable to the Irish weather.
Free next day delivery nationwide on all orders over €75 Nationwide