Chefs Knives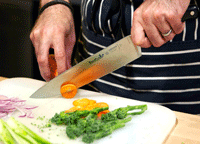 We stock a large selection of professional chef's knives that can be used in the domestic environment as well as the professional kitchen, we have the knife suited to your needs. We also offer a knife sharpening service for when your knife needs to regain that sharp edge. Call to our showrooms to see the full range we stock our we can send you out a brochure so you can choose from the following ranges:
Arcos has been manufacturing professional cook's knives and utensils since 1745, based in Spain they pride themselves in producing to the highest possible standard for all their products.
Dick is a family based company from Germany producing a comprehensive range of products for the food service and food processing industries, they offer a complete range of knives, sharpening steels and ancillary items for butchers, chefs as well as grinding machines which we use to sharpen knives in store.
Giesser knives are manufactured in southern Germany to the highest standards and utilise the very best materials. They are constructed through the combined use of modern industrial automation alongside traditional handcraft skill. Giesser is a brand well known for their strength, retention of sharpness and reliability.
Victorinox produces the finest quality Swiss professional knives for over 130 years, encompassing generations of tradition and craftsmanship. Their blades excel under the daily pressures of professional kitchens and are built for long-lasting superior performance.
Free next day deliver on all orders over €75 Nationwide